The 2021 American/Hopes Classic is going on this weekend at the National Training Center (Gymnastics Factory) in Indiana. The first two sessions of the weekend were the Hopes 11-12 and 13-14 year olds looking to qualify to next months Hopes Championships which are held in conjunction with the GK US Classic. This meet comes directly off the heels of the level 9 and 10 regional championships held around the country last weekend.
Region 5 had six athletes participate between the two age groups. It was a busy last two weeks for five of these athletes as they recently competed at last weekend Region 5 Championships with 4 moving onto either Level 9 Easterns or Level 10 Nationals.
The qualifying procedures for Hopes Championships are you must achieve a 46.00 (11-12) or 48.5 (13-14) all around score and finish in the top 18 to qualify. In the 11-12 age group there were only 14 so it would be completely based on the all around score.
The competition was streamed by Flo Gymnastics and all the archived videos are up on their site to view (Flopro members only).
Hopes 11-12
Full Results
Cincinnati's Quinn Harris will be a busy gymnast for the next month. Last weekend she tied for the Level 9 Junior 1 All Around title at Region 5 Championships qualifying to Easterns in May. She continued her success finishing 3rd in the all around at the Hope Classic with a 48.2. Quinn had to make some slight changes to her Level 9 routines but hit four solid sets including a 12.0 on floor which feature a nice double pike to open and tied for 2nd on the event. She upgraded her beam dismount to 2 back handsprings to a double full (1 back handspring to full at regionals) for this competition. She qualified to the Hopes Championships so will be preparing for two big competitions over the next month.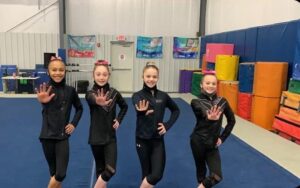 Sadie Goldberg from Buckeye finished 5th all around with a 47.55 grabbing a silver medal on vault with her 13.4 Yurchenko full. Sadie had some struggles on bars at last weekends Region 5 Championships and finished 12th in Junior A but rebounded here to qualifying to the Hopes Championships.
Buckeye gymnastics had two athletes participate in this Hopes age group the second being Addie Oiler-Velez who finished 10th with a 45.55. Addie had a very nice beam routine which features a double wolf turn and solid back handspring layout stepout. She also has a unique snap down back tuck bar dismount. Addie didn't achieve the Hopes Championships qualifying score but will be representing Region 5 at Level 10 Nationals as a member of the Junior A Dream Team in Daytona Beach in three weeks.
Tori Kitzmiller from Naperville finished 13th with a 43.7. Tori who is just off an injury and resumed training only a few weeks ago was able to make all four of her routines and finish top 6 on bars with a very nice Pak salto and toe handstand toe up combo (11.15).
Hopes 13-14
Full Results
Region 5 had two athletes compete in this age group. Carly Weinburg from Buckeye, 2019 Hopes Championships qualifier, finished 11th with a 49.2 to qualifying to her 2nd Hopes Championships. Carly had a very nice Yurchenko layout 1/2 on vault, and a 2 1/2 dismount off beam and beautiful double layout dismount on bars. Carly is another athlete who will be busy over the next month as she has also qualified to Level 10 Nationals on Region 5's Junior A Dream Team.
Emma Becker, who changed gyms this past week, competed for Naperville in this Hopes Classic finishing 25th with a 47.0. Emma has beautiful stalders on bars one of which she blinds out of into a very nice Jaeger. A fall on beam on her flight series kept her from qualifying to the Hopes Championships but she will be taking a trip to Daytona Beach as she fills the important roll of alternate for Region 5's Junior B Dream Team.