This weekend the American Classic took place at Gymnastics Factory in Indiana, home to the USA National Team Training Camps. It was the first qualifying meet (outside of national team camps) for the USA Championships in Fort Worth, Texas at the beginning of June.
Region 5 had four athletes participate at the Classic, 2 juniors and 2 seniors: Faith Torrez- Legacy Elite (Senior), Hailey Klein- Flips (Senior), Gabby Van Frayen- Gym Xtreme (Junior), Izzy Stassi- Gym Xtreme (Junior).
The qualifying procedures for USA Championships were completely based on score. There are 2 and 3 event scores that senior elites can achieve to qualify to championships but the all around totals are 52.0 for seniors and 51.0 for juniors.
This competition was live streamed on FloGymnastics with archived videos from the competition up on their site (must have FloPro to watch any of the classic coverage).
Seniors
Full Results
The senior competition featured some of our countries best elites, a few in the mix for the Olympic Team selection. Region 5 had youth and experience in the senior age group. Faith Torrez from Legacy Elite won this competition in 2019 in her first big elite meet. In 2021, Faith is bouncing back from an injury she sustained at the Winter Cup back in February, so some routines are still watered down. Faith only competed a Yurchenko Full on vault and took out her layout full out on floor however her 13.65 and 12.95 were each good enough for top 6 respectively. Faith fell on her Brani on beam but nailed her standing full and a solid aerial layout to finish 6th on beam as well with a 13.5. Faith totaled a 52.55 in the all around which was good enough to qualify to her 2nd USA Championships.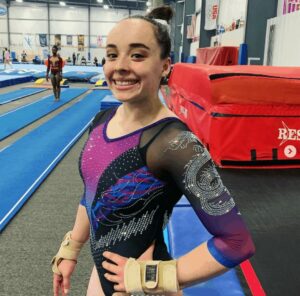 Hailey Klein from Flips is in her first year as an elite. Hailey has some big skills on all four events but balance beam and floor are her strongest. Hailey started the competition on vault with a nice Yurchenko full (has a double full in the works) for 13.55. She missed her Hindorff (clear- hip Tkatchev) on bars but nailed her aerial layout layout on beam (omitted this at Winter Cup) for a 13.0. The video unfortunately cut out and we didn't get to see her floor routine but she totaled a 48.85. Hailey will get another opportunity to qualify at the GK US Classic in May.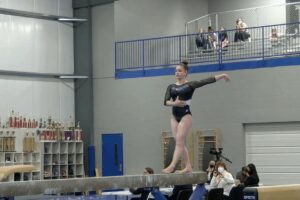 Juniors
Full Results
Region 5 had two juniors participate at American Classic both of which train at the same gym. Gabby Van Frayen and Izzy Stassi from Gym Xtreme choose to pull out of the 2021 Region 5 Level 10 Championships to focus on the American Classic. Both Gabby and Izzy were featured in our Region 5 Twenty Five athletes to watch. Gabby finished top 3 on both vault (13.5) nice Yurchenko Full, and beam (13.15) solid layout layout, to finish 5th in the all around 51.15 and qualified to her first USA Championships.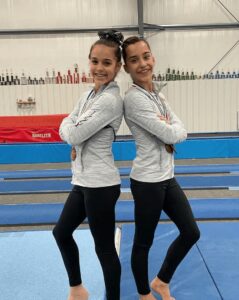 Izzy Stassi, 3rd in the all around at the Hopes Championships in 2019, had an unfortunate fall on her aerial cartwheel on beam but then repeated it into a nice solid layout stepout. She had a beautiful 2 1/2 front tuck on floor but bounced out of her two double backs. After a nice 13.4 Yurchenko Full that finished 6th, Izzy finished the competition with a nice combo of Maloney to uprise clear-hip immediate Ray and double layout dismount on bars to total a 48.85.