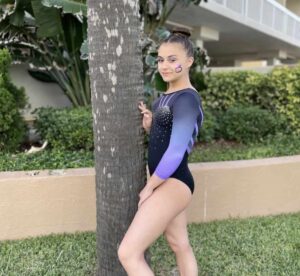 Our next 20 Questions Athlete has had national success as a Level 9 Winning the 2019 Eastern National Beam Title, won a Yahtzee Award for Best Stick and in 2021 qualified to her Level 10 Dev National Championships. Josey Kiefer, from Cincinnati Gymnastics, is one of my absolute favorites to watch on the competition floor. Especially her Floor routine, which never disappoints, with her huge personality and solid tumbling I always look forward to this routine. Josey, who is a sophomore in high school, will definitely be "one to watch" in the next couple years for Region 5. I cannot wait to see what the future holds for this talented and vibrant young athlete! Let's get to know Josey a little better as she gets ready to start the 2021-2022 season and make a run at her 2nd Region 5 Dream Team.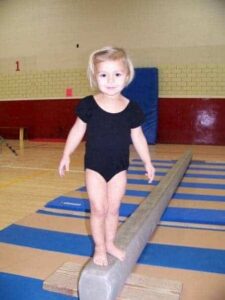 How did you get in to the sport of Gymnastics? How old were you? My mom put me into gymnastics because I was so energetic. I was 3 when I started gymnastics.
What is your favorite event? Why? My favorite event is floor because you get to have fun with your choreography in your routine.
What is your favorite Skill? Dream Skill?
My favorite skill is a double back on floor. My dream skill is a front pike half out of the vault.
What is your favorite part of Gymnastics? Why? My favorite part of gymnastics is seeing how far I can push myself to be the best I can.
What is your biggest accomplishment in the sport of Gymnastics(so far)? My nuggets accomplishment would be 1st on beam at Eastern Nationals and 2nd all around.
What is something you have learned in/from the sport of Gymnastics that you will take with you long after retirement? I have learned so many things in gymnastics but I think the biggest one is Respect. Respect is so important in life.
Who is your role model? Who inspires you? Why? How? My role model and the person that inspires me is Amelia Hundley. Amelia is the most hardworking person you can find. She will put 110% into everything she does.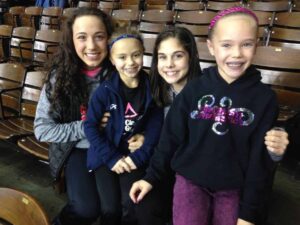 What is your most memorable meet moment? My most memorable meet moment was finishing my floor routine at 2021 DEV Nationals knowing I gave it my all in my routine.
What is your most embarrassing or funniest meet or practice moment? My most embarrassing moment was definitely Kalahari bars. I fell about 3 times and ended up not finishing my routine and the whole meet was watching me.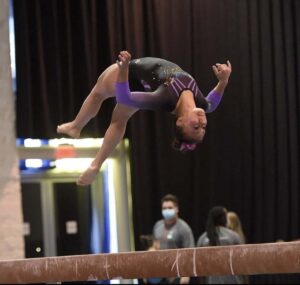 What is the most valuable piece of wisdom your advice you have received from your coaches? I think that the best piece of wisdom advice my coach has given to me was how to stay present in the moment and only worry about one skill at a time while competing.
If you could have any superpower what would it be? I would have the ability to be fearless because I would be able to do all of my skills without hesitation.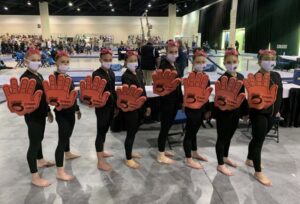 What was it like competing in your 1st Level 10 National Championships? It was the best experience in gymnastics that I have ever had.I had so much fun competing with so many kind and loving people.
What was it like representing Region 5? What was a highlight or memorable moment from the competition? Competing with region 5 is something I will never forget. It was such an honor to compete for my region and to compete with such encouraging people. A highlight was when I had a bad beam rotation and went to floor and I did the best routine of my season.
What is your favorite Region 5 Insider Feature or Series? My favorite region 5 insider series is definitely coaches wired.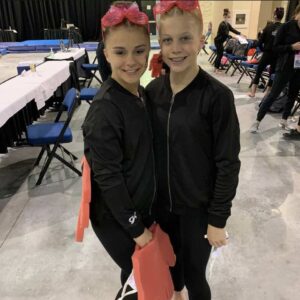 What are the 5 most important items in your gym bag? Grips, Tiger paws, Tape, Water, and advil.
What are 3 things you could not live without? Music, family/friends, and Naps.
What do you like to do outside of Gymnastics? Work with my show cattle and pigs and help my dad with any farm work that need to be done.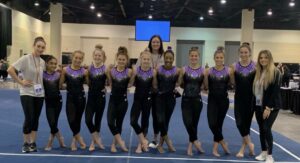 What sets your team/gym apart? I think what sets CGA apart is how we treat everyone like family. We will always be humble and kind even if they are not from our team.
Favorite Show or Series to Binge Watch on Netflix, Hulu or HBO+? Outer banks, and Yellowstone.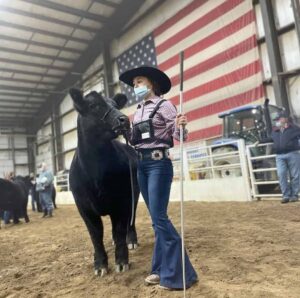 Where do you see yourself in 10 years? What is your dream job? I see myself getting married. My dream job is to be a chiropractor.
Bonus Question: Tell us something interesting about yourself……….I love to be on my family farm. I love working with my animals to get them ready for show season. I show cattle throughout the winter and I also show animals in the summer. Showing animals is a full time job. It is very similar to doing gymnastics.