Full Results: Day 1
Reactions to Competition Day 1 Izzy | Gabby | Ella Kate
The 2021 USA Championships junior field looks like many senior sessions through the years. Thirteen athletes qualified to compete at this years championships and Region 5 has three of them. The "Ohio Trio" as we are calling them, are all competing in their first USA Championships.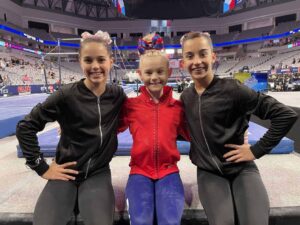 The three Gabby Van Frayen (Gym Xtreme), Izzy Stassi (Gym Xtreme) and Ella Kate Parker (Cincinnati) came into their first championships with eyes on making the national team. Though Day 1 is only half of the picture, it can be the motivating factor heading into day 2 of competition.
It was a very positive experience, lots to be proud of my solid beam, stuck dismount on beam, 13.6 on vault and improved that score" Gabby on her day 1 performance
The top finisher for Region 5 in day 1 was Gabby Van Frayen who sits in 5th place in the all around with a 51.75. Throughout this elite season, Gabby has been very consistent and that continued in day 1. She kicked off the competition with a smooth and flowing Maloney to Pak combo on bars before rocking her full out dismount. Her layout layout on beam, huge double back last pass on floor and a well executed Yurchenko Full on vault were some of the many highlights to her performance. Gabby is in good position to challenge for the top 3 on Sunday.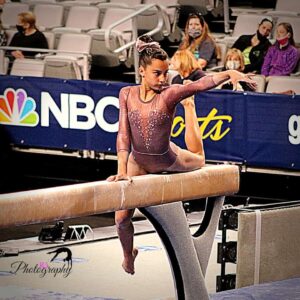 "I was a little nervous mounting the beam but once I was up there, it was just me and the beam. I was very confident up there today" Ella Kate on her solid beam routine
The second best beam set of the competition belongs to Ella Kate Parker. Her aerial layout step out is one of the best out there and combined with confident landings on all her skills including a stuck round off double full dismount and a 13.3, puts her in in contention for a spot on the podium for beam. She had some struggles with her landings on floor but finished the competition with good Yurchenko full to sit in 9th all around with a 50.9.
"At first I was really rushed, my handstand was a little short but then I started to calm down. Overall a really good bar routine" Izzy Stassi on her bars.
Izzy Stassi led off day 1 of competition as the first competitor on bars. One of her best events, she did not disappoint, effortlessly executing her Maloney uprise to clear hip Ray combo for a 3rd best 12.85. Izzy unfortunately had a fall on her series on beam but kicked off the routine with a beautiful back dive with half turn that was one of the best I have seen her do at least here in Fort Worth. That mount is really cool and adds a touch of originality to her routine. She finished the day strong on floor and vault to finish with a 49.95.
One more day of training and they will be back at it Sunday for Day 2 from here in Fort Worth.