Full Results: Senior Day 1
Playlist of Shilese Routines (videos from USA Gymnastics)
This was unlike any USA Championship senior session I have witnessed in um well since the yearly 2000's. In recent years the gymnasts had to go one at a time so that the meet wouldn't be under TV time. In the 2021 edition, we had two flights of athletes on every event. The energy level also was elevated in this session with the fans roaring at the stars of our sport in USA Gymnastics not to mention Peng Peng Lee's antics. Oh and they may have to replace the speakers for night 2 as the floor music was ear drum shattering.
Region 5's only senior Shilese Jones (Future Gymnastics) had the book end type day on night 1 with bars and vault on fire but the flame not as high as it could be due to some problems on beam and floor. Shilese was first up in the second group in rotation 1 and let it fly, and I mean "FLY HIGH". Her piked Ray to Pak combo is so big and right one tonight. She finished up with a very nice double front and was elated with her 14.3, which currently is 5th overall.
Balance Beam can be a great event for Shilese but a bit low landing on her standing arabian, which is uncharacteristic for her, to start the routine and a take two moment on her flight series kinda took the wind out of her sails on beam. Though she did have a big wobble on the layout two feet, it still massive! Though we saw the full in dismount in podium training, she went with the consistent and stable double pike.
The "Jones", in the JO Code, made its second appearance during this elite season (first at Winter Cup) but wasn't as big as in podium training and took a step back. She fell on her double arabian but finished with a nice double back for a 12.5 (which would have been a top 6 routine with out the fall).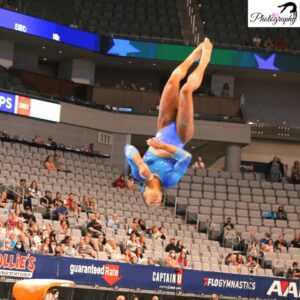 The Yurchenko double full is not an easy vault to perform for many but not Shilese who sends hers into the air, not as high as her Ray, but still bigger then most. Her 14.8 was the 4th best first vault (the vault that counts for the all around score). Shilese finished with a 54.1 only .45 out of the top 5.
Non Region 5 Highlights:
The all around performance and of course the bars of Sunisa Lee proving that you can do high level of gymnastics even on one foot (ok she used both feet but barely). Jordan Chiles continues to impress with her consistency and effortless look to her gymnastics. She has command of her routines and it's exciting to watch. She is known for her power but her bars have improved so much over the last year and the event has become a strength.
Chellsie Memmel is amazing doing a Yurchenko for only the second time in her whole career first one back in 2006 I believe. Though she missed bars it was exciting to watch her just overly proud of each routine and finished with an awesome beam set keeping her arabian in check her and finishing with the 6th best routine 13.8.
Last but not least the bar routine of Riley McCusker who finished 3rd with a 14.65. She owns the reward for the Tkatchev queen with all the possible variations you can do. She finishes her routine with a nice inverted giant to double front 1/2 out and stuck it on a bad ankle (injured at classics).
Day 1 was exciting and I am sure there will be even more on Sunday!