Full Senior Results (2 Days Combined)
Shilese's Day 2 Routines
Senior Day 2 Full Playlist
USA Gymnastics Championships for 2021 rapped up with day 2 of the senior competition. Dickies Arena was electric with on the edge of your set exciting routines combined with the loud roars from the crowd. The energy from the crowd was felt by all in the arena as these fans were just excited to be able to enjoy live gymnastics again.
There was a lot ridding on this final day of competition here in Fort Worth as the national team and qualifiers for the Olympic Trials were up for grabs. Region 5 hoped to have a few more athletes in the mix but due to different circumstances only Shilese Jones from Future Gymnastics competed with a chance to move onto trials.
Shilese entered day 2 of competition in 11th place only .45 out of 5th place. She waisted no time moving up the leader board with a huge vault and bar set before struggling again on beam. She finished the day in 12th with a 108.5 and secured a place at the Olympic Trials in St. Louis in three weeks.
She launched herself into the action with a huge "JONES" (check it out here) first pass that went out of bounds but easily landed her double arabian, which she missed on night 1.
Shilese posted the the 2nd highest single vault score of the competition (tied with MyKayla Skinner) of a 15.0 with an absolutely beautiful Yurchenko Double full. It's too bad that elites don't get two vaults so she could try her Amanar before or after her double full. She sends this vault into the air and floats down to a STUCK landing. Check it out!
In rotation 3, her stalder piked Tkatchev that she launches or more like throws into air was finger tip caught which sent her Pak salto transition up into the air. However, in true Shilese style, she handled it with ease finishing her routine with an almost stuck double front which she turned quickly to salute the judge. Her 28.7 combined total was good enough for 5th. Those of you who aren't aware she is pretty good on bars!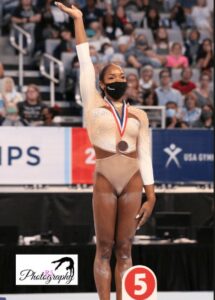 Balance beam just wasn't her event here at this years championships even though she can be amazing when she is on. The routine started very solid with her standing arabian, and front tuck. She would however struggle with her flight series omitting her layout two feet and grabbing the beam in the process. She finished her double back dismount combo very close to the beam dropping her from 4th to 12th in the final standings.
The field for the 2021 Olympic Gymnastics Trials is set. It's going to be an exciting two days of competition in St. Louis.