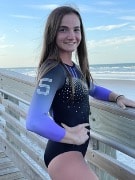 Our next 20 Questions Athlete, Nadia Parente, is a 1st year DEV National Qualifier from Dominique Moceanu Gymnastics in Ohio. Nadia, who is in her 4th year of Level 10, has always been someone to catch your eye on the competition floor. However, it was not until this year that she truly became "one to watch" heading into the Championship Season. I have always enjoyed watching Nadia on the Uneven Bars, she is a natural born swinger, who goes above and beyond on each and every skills she performs. At the 2021 Region 5 Championships Nadia went big to make her first DEV National Championships, competing & hitting a brand new Yurchenko Layout Full Vault. Nadia, who has entered her Junior year of High School, will be "one to watch" again this year as she tries to make her 2nd Region 5 Dream Team. So, let's get to know Nadia a little better as she prepares for the 2021-2022 competitive season and looks to earning a spot at the DEV National Championships in Phoenix.

How did you get into the sport of Gymnastics? How old were you? When I was little my babysitter did gymnastics and would always teach me skills and how to flip. I was 5 when I first attended a recreational class and then was quickly moved to the competitive team.
What is your favorite event? Why? My favorite event is the uneven bars because I love swinging around the bar and flying through the air.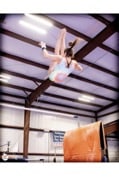 What is your favorite Skill? Dream Skill? My favorite skill is my double layout off bars, and my dream skill is a double layout full-out off bars.
What is your favorite part of Gymnastics? Why? My favorite part of gymnastics is having fun everyday learning new skills, and having a blast with my teammates.
What is your biggest accomplishment in the sport of Gymnastics (so far)? My biggest accomplishment is competing at the 2021 Developmental Nationals.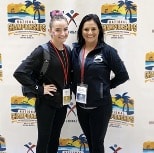 What is something you have learned in/from the sport of Gymnastics that you will take with you long after retirement? One thing that gymnastics has taught me is self-discipline. Motivation and determination is so important in everything you do in life. So if you keep your goals in mind and strive towards them everyday you will become successful.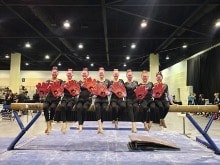 Who is your role model? Who inspires you? Why? How? My role model is Suni Lee because even after all of the hardships and obstacles that she has faced, she still continues to spread positivity. While also achieving success inside and outside of gymnastics.
What is your most memorable meet moment? My most memorable meet moment is when I realized that I placed 2nd in the all-around at Regionals, and qualified to Level 10 Nationals.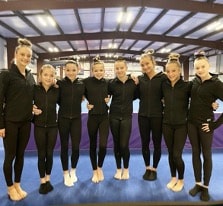 What is your most embarrassing or funniest meet or practice moment? My most embarrassing practice moment had to be the time I was trying to jump to the high bar, and my grips didn't grip the bar fully. So I totally just peeled and fell right on my back onto the mat.
What is the most valuable piece of wisdom or advice you have received from your coaches? One thing that my coach has taught me is to never give up, even on the bad days. If you keep on continuing to persevere and stay determined throughout the process, everything will work out and fall into place.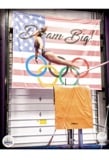 If you could have any superpower what would it be? I would want to have the power of teleportation, so I could travel anywhere at any time.
What was it like competing in your 1st Level 10 National Championships? I thought my experience of competing at my 1st Level 10 National Championships was super exciting and unforgettable. All of the girls and coaches made it such a thrilling and fun environment to compete in. Everybody was cheering and supporting one another throughout the entire meet. I am so happy to have met such a lovely group of girls and grateful that we still keep in touch.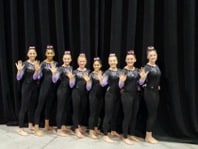 What was it like representing Region 5? What was a highlight or memorable moment from the competition? Representing Region 5 was a huge honor and I'm so blessed to have had the chance to do it. I was so thrilled the entire meet because Region 5 is the loudest and most supportive region out of all of them. The most memorable moment of the competition for me was when I performed my yurchenko-full for the first time. I had so much encouragement from my teammates and all of the coaches, and when I landed it everybody was so happy and excited for me.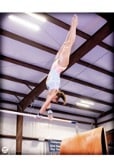 What is your favorite Region 5 Insider Feature or Series? My favorite series is All Access because I like watching how other gyms train and practice.
What are the 5 most important items in your gym bag? The 5 most important items in my gym bag are tape, grips, deodorant, a protein bar, and my water bottle.
What are 3 things you could not live without? Three things that I couldn't live without are my family, food, and my phone.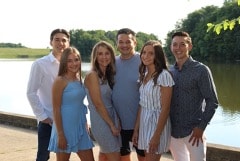 What do you like to do outside of Gymnastics? Some things I like to do outside of gymnastics are spend time with my family, and go shopping.
What sets your team/gym apart? Some things that set my gym apart is that my teammates and I are always there for each other and so supportive. We are a big family and always push each other in a positive way to be the best we can be.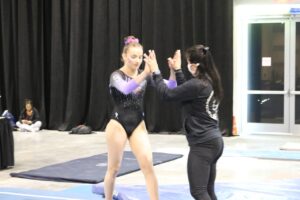 Favorite Show or Series to Binge Watch on Netflix, Hulu or HBO+ My favorite show to binge watch on Netflix is Outer Banks.
Where do you see yourself in 10 years? What is your dream job? In 10 years I see myself out of college and traveling to lots of different places exploring new opportunities.
Bonus Question: Tell us something interesting about yourself……….Everybody in my family either plays or played soccer, and I am the only person in my family to do gymnastics.