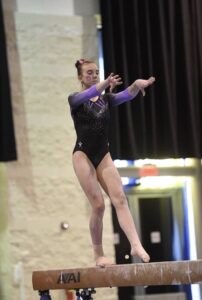 Our next 20 Questions athlete was a 1st time DEV National Qualifier in 2021. Kaitlyn Schwab, of Aspire Gymnastics in Illinois, is one of my absolute favorite athletes to watch on the Uneven Bars. Kaitlyn, whose favorite event is vault, has a natural swing on he uneven bars with near perfect handstands and double layout dismount that soars to the rafters. Kaitlyn, who is recovering from a hand injury, is still throwing some pretty impressive skill with one hand. Hope over her IG page to check out her 1 handed full-ins and pike front toss on beam. I think what I am most looking forward to this season from this incredible athlete is her upgrades bar dismount. As we are heading into the 2021-2022 Meet season let's get to know Kaitlyn a little better and wish her a speedy recovery so she can make a run at her 2nd DEV National Championships & Region 5 Dream Team.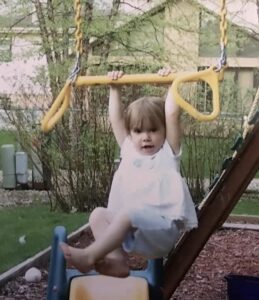 How did you get into the sport of Gymnastics? How old were you? I was always climbing on the playground equipment in my backyard as a baby so my mom signed me up for mom and tot classes when I was 2.
What is your favorite event? Why? My favorite event is vault because I love the power you have to put into it and I like the feeling of twisting in the air.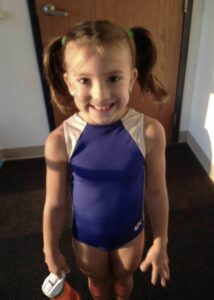 What is your favorite Skill? Dream Skill? My favorite skill is a yurchenko full on vault and my dream skill is a layout double double dismount on bars or pak full.
What is your favorite part of Gymnastics? Why? My favorite part of gymnastics is being able to be with the people that make me the happiest all the time. The bonds that I have created because of this sport is incredible!
What is your biggest accomplishment in the sport of Gymnastics (so far)? I think my biggest accomplishment has been able to come back from all of the setbacks due to injuries and still qualify for Nationals.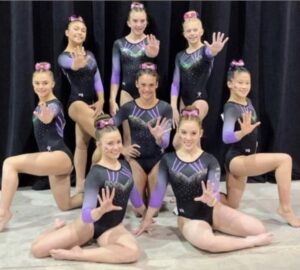 What is something you have learned in/from the sport of Gymnastics that you will take with you long after retirement? Something that I have learned from this sport that I will take with me is the self confidence that I've built. You have to know your limits and expectations without comparing yourself to others.
Who is your role model? Who inspires you? Why? How? My role model is Olivia Orengo because even though we are the same age and she is my best friend, she has a strong work ethic and positive attitude. I strive to have the same qualities as her.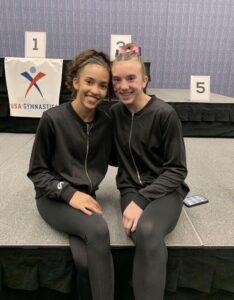 What is your most memorable meet moment? With one event left at level 7 state, my score led to a third place tie between my best friend and me. This is the most memorable moment because Zoe and I have been through thick and thin together in our gymnastics career and it was so amazing to tie with my best friend at state.
What is your most embarrassing or funniest meet or practice moment? My funniest moment, but embarrassing for me at the time, would have to be at Nationals when I was competing bars and I peeled off on my dismount.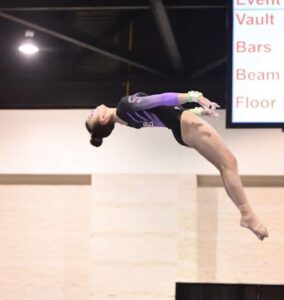 What is the most valuable piece of wisdom or advice you have received from your coaches? You have to work hard for what you want. You can't sit back and hope for things to just come to you when you put in no effort.
If you could have any superpower what would it be? If I had any superpower it would be to fly. This way I would be able to go anywhere in the world I want, at any time I want.
What was it like competing in your 1st Level 10 National Championships? It was definitely nerve wrecking but my group was so supportive throughout the whole meet and it was so fun to be out there competing with them.
What was it like representing Region 5? What was a highlight or memorable moment from the competition? Representing Region 5 at my 1st Nationals is definitely something I will never forget. All of the extra accessories like the glasses and foam 5 made Region 5 stand out which I thought was super memorable.
What is your favorite Region 5 Insider Feature or Series? I really like Making Moves Monday because I enjoy seeing what other girls from Region 5 are training.
What are the 5 most important items in your gym bag?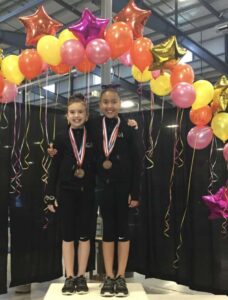 The 5 most important things in my gym bag are my grips, tiger paws, Ibuprofen, chapstick, and tape.
What are 3 things you could not live without? The 3 things I could not live without are sweatshirts, chapstick, and my bed.
What do you like to do outside of Gymnastics? I like to binge watch Netflix in my bed and just rest because I don't get much resting time during the week. On weekends I like to hangout and go places with my friends.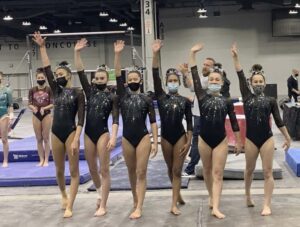 What sets your team/gym apart? The Aspire team is incredibly loving, funny, and hard working. I haven't been to a gym where I have laughed more than I have at Aspire and felt such a close bond to everyone. We know how to have fun while being productive.
Favorite Show or Series to Binge Watch on Netflix, Hulu or HBO+ My favorite show on Netflix to binge is currently Criminal Minds.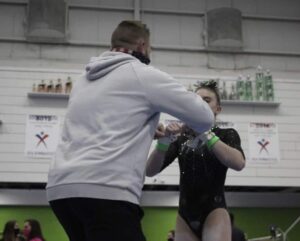 Where do you see yourself in 10 years? What is your dream job? In 10 years from now I hope to have a career in the field of Radiology.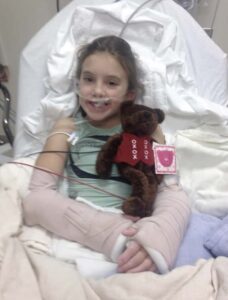 Bonus Question: Tell us something interesting about yourself……….Over the course of my gymnastics career I have broken 7 bones and have had 4 surgeries.