Full Results: Juniors
The 2nd Classic of every elite season is the US Classic now GK Classic. This competition is the last opportunity to qualify to the upcoming 2021 US Championships in Fort Worth, Texas in two weeks.
Region 5 had three athletes competing at the start of the competition. However during the first rotation Ella Kate Parker from Cincinnati injured her ankle on her double twisting Yurchenko vault and pulled out of the competition. Ella is already qualified to championships so hopefully she will be able to bounce back in two weeks.
The duo from Gym Xtreme took to the balance beam in the first rotation and both were well balanced. Izzy Stassi entered the competition needing her score for championships and wasted no time by nailing a solid beam routine finishing with big double back dismount and a 12.55. Gabby Van Frayen, who qualified at the American Classic, also had a strong beam set besides the wobble on her layout layout she was solid finishing up with a clean double full for a 12.4.
Floor was a huge improvement for both from their American Classic performance. Gabby nailed her routine which features a very well executed front layout front double full for a 12.75. Izzy, who went up before Gabby, rocked her 2 1/2 front tuck which gave her some difficulties at American Classic and finished with a strong double tuck to post a 12.65.
Vault was clean for both putting up 13+ scores for nice Yurchenko fulls which let bars remaining. Gabby attacked her opening Maloney Pak, Maloney 1/2 (not connected) combo, strong Jaeger, and stuck her full twisting double back dismount for a big 13.15. Izzy had to wait a few competitors before it was her turn needing a 12.6 to advance to championships.
Coach Steve talked her through her routine before she saluted but you could tell in her salute she was going to rock it. Izzy opened up with a strong Jaeger, then after a nice Pak, nailed her huge combo of Maloney uprise to Ray. She tried to scare her coaches and us fans watching as she missed her blind full but covered well to finish with a nice double layout and 12.95 qualifying to championships.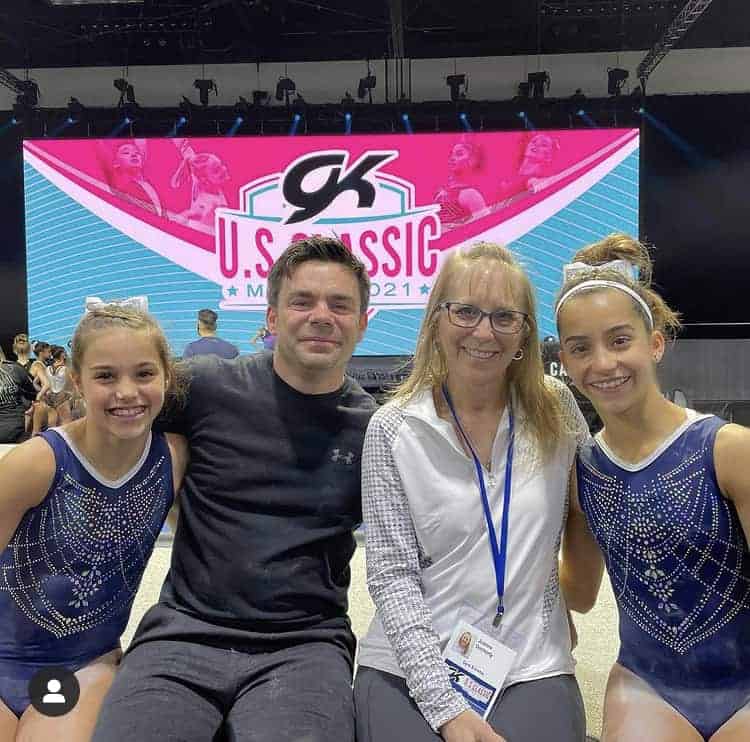 Gabby finished 3rd all around for the second meet in a row with a 51.7 but this time her teammate was right behind her in 4th with a 51.35. This will be Gym Xtreme's first trip to USA Championships and both Gabby and Izzy are looking strong and confident for a run at the junior national team in two weeks.