Results: 11-12 age group | 13-14 age group
Check out our interviews with all three athletes on our Facebook or Instagram
The elite season continues with the 2021 GK US Classic and Hopes Championships. This competition has a new look and feel and just an all around different atmosphere but hey we have elite gymnastics in 2021. The Indiana Convention Center is playing host to this event as it did for the Winter Cup/Nastia Cup back in February. The convention center has never looked this good (well I guess it did at Winter Cup).
As we are at the 1/2 way point at Hopes Championships, I just wanted to mention how cool the Indianapolis Convention Center looks all dressed up. Too bad Circle of Stars or any of the thousand invites we have here can't be this fancy. @USAGym

— Region 5 Gym Insider (@Region5Insider) May 21, 2021
Three athletes from Region 5 took part in this years Hopes Championships. Two of the three athletes have been busy representing Region 5 at Easterns and Dev Nationals these past two weekends.
Quinn Harris from Cincinnati had the highest All Around finish of the three placing 6th in the 11-12 age group. Quinn who represented Region 5 at Level 9 Easterns two weeks ago scored a 46.15. Quinn finished in a tie for third on bars (11.95) which her coach Rachel was very pleased with. She has a very nice Pak salto and finished with a strong double pike dismount. She also finished in the top 5 on beam (11.55) with solid acro skills and a very nice two back handsprings to a double twist.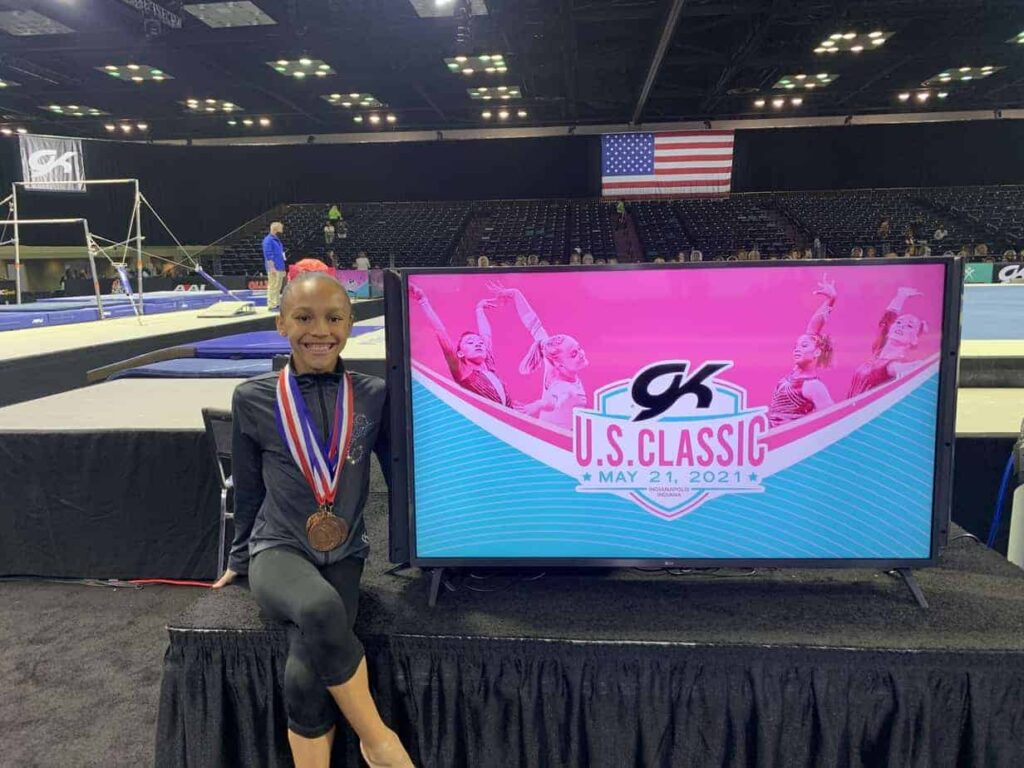 Buckeye's Sadie Goldberg also competed in the 11-12 age group and landed herself on the podium for two events vault and beam. She started out on vault with a good Yurchenko full (12.95) for 2nd place on the event, but it was her beam dismount that stole the show for her in this competition. Her 2 1/2 stood up tall off the beam and had a nice solid landing capping off a good routine for a 11.95, and 3rd place on the event.
One week after she represented Region 5 at Level 10 Nationals, Carly Weinberg from Buckeye Gymnastics was back out there again competing in her 2nd Hopes Championships (first back in 2019). Carly started off with a very nice Yurchenko Layout 1/2 but it was her bars and beam that showed huge improvement from a week ago. Carly, who missed a blind at 10 nationals and had several wobbles on beam, rocked both events at these championships. Her 12.55 on beam which features a very nice Ondi and beautiful double full dismount, took 2nd place on the event. She improved her score by .05 from American Classic/Hopes Classic.