They say "Good things come to those who wait" well I think I have kept everyone waiting long enough. It has been a busy end of the season with lots too do and now we are all of a sudden half way through summer. Where has the time gone! So without further a do, I give you the long awaited 2022 Region 5 Top 10 Favorite Leotards!!! As usual we will be starting with a few honorable mentions and Leos 10-6!
________________________________________________________________________
Honorable Mention
Kaia Tanskanen (Michigan Elite/Finland)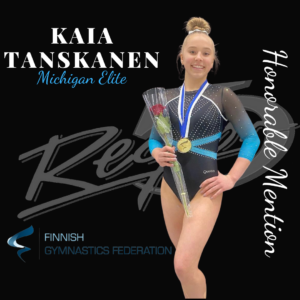 I absolutely LOVE this leo! Kaia, who is a 3x DEV National Qualifier & member of the 2022 Finish National Team wore this leo at the recent Finish Championships where she took 1st on the Floor Exercise! To check out more of the gorgeous Quatro Leos Kaia has been wearing (the black & gold tank is my favorite) head over to her IG (kaia.gym2023) where you can also get her discount code to use @Quatrogymnastics to get your own.
Legacy Elite (Illinois)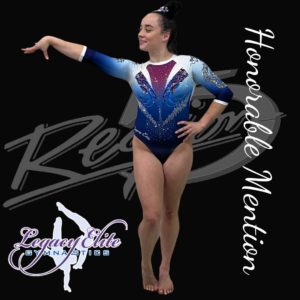 What I love most about Legacy Elite's Leos is the tradition, history & culture it portrays. Ever since I started the leo list Legacy Elite has held a spot on it, they always have unique and creative ways of incorporating the Dragon into each and every leotard year after year and only getting better with each one. This year was no exception Legacy Elite once again went above and beyond with this incredible leotard that catches your eye and makes the athletes certainly stand out with all of their sparkle & shine. Each leo cycle I truly look forward to seeing their new leos and how they will incorporate the Dragon.
JPAC (Indiana)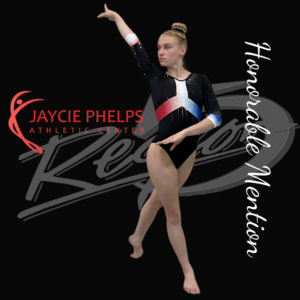 JPAC, like Legacy Elite, is no stranger to this list having made it numerous times before and like Legacy Elite this years JPAC leo also has history & a story. In 2020 JPAC celebrated their 10 year anniversary and in 2022 commemorated with a new team leo that pays homage to the last 10 years mixing together the colors that have represented JPAC past, present & future.
Gymnastics Etc. (Illionis)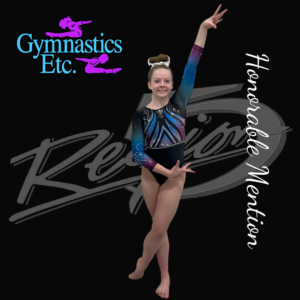 I do not know who was more excited by Gym Etc's leos this year, the coaches, the girls or myself! When I saw this leo I instantly marked in down in my notes! I was so excited to see that they FINALLY got a new leo!!! The coaches asked if I saw it as did the athletes when they came to Dream Team Media! Even though they did not make the Top 10 list this year I knew that I had to recognize them in some way because I could hardly contain my excitement over this leo.
________________________________________________________________________
10. FIT (Michigan 1st year)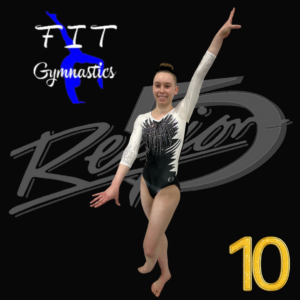 FIT is new to our Leo list this year with this beautiful black & white Ozone Leo! This Leo caught my eye early in the season! It was on the list for everyone I polled! It's a classic, beautiful Leo!
9. Gym X-treme (Ohio 5th year)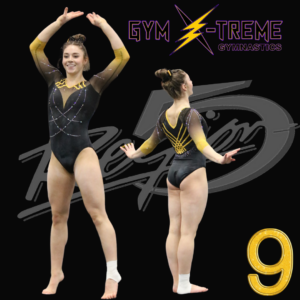 Gym X-Treme is no stranger to our list! They come up with beautiful Leo's year after year. This Leo is so elegant and classic, I love how they subtly incorporate the yellow to not over power or overwhelm. This is the first since about 2017 that they have not included purple in their design.
8. Legacy (KY)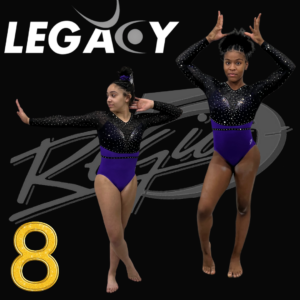 Legacy finally has made the list!! They have been an honorable mention so many times but had yet to break into the top 10 and this year they finally made it coming in at number 8 with this classy black lace and purple leo!
7. CGA (Ohio 9th)/Energym (Illinois 1st)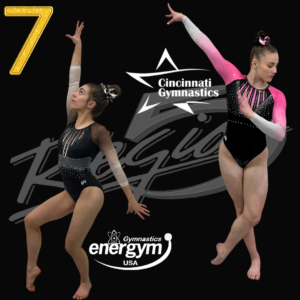 This is Energyms first time on the list and CGA's 9th!!! CGA is the only team to make the list every year, which is incredible! What I love most about these two Leo's is they are the same but drastically different! I could not decide which one I liked more so both are sitting together in the number 7 spot in our list!
6. Flips (Illinois 1st yr)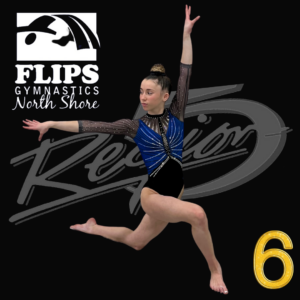 This is Flips first time on our list & what I love most about this Leo is that it is the same as another one we will see on the list but also incredibly different! I love the royal blue color in the chest, it just draws you right in and makes you look! My athletes love this Leo because it reminds them of a beautiful butterfly and I just think that is so special! Flips leo is unique and beautiful!
Stay Tuned for the Top 5 coming up later this week!
________________________________________________________________________
Disclaimer: To be eligible for the Region 5 Top 10 Favorite Leo list at least one athlete must compete at least one event at the Region 5 Championships. Athletes competing at any of the Elite Classics, Championships or beyond are also eligible.