It has been a long break, but our 20 Questions Tuesday series is back with a long list of 1st year DEV National Qualifiers to get to know.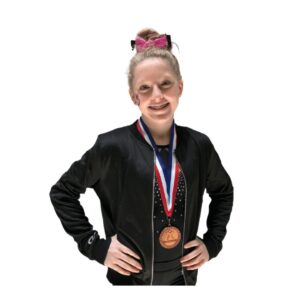 Our first 20 Questions athlete of the 2021-2022 season is, a first year Level 10 from Cincinnati Gymnastics, Olivia Lang. In 2021 Olivia qualified to her 1st DEV National Championships placing 3rd in the All-Around. Olivia, who missed out on qualifying to the 2019 & 2020 Eastern Championships because of a fall and then COVID, definitely redeemed herself in a big way in 2021 as a first year level 10. Olivia Lang does huge gymnastics all over the gym with an enormous Geinger on Bars, powerful tumbling on Floor and straddle jumps for days on the Balance Beam! I love to watch her on Floor where her fun personality really shines through! Olivia will definitely be one to watch for years to come in Region 5. So, as Olivia prepares to tackle her 2nd year of Level 10, let's get to know her a little better as she makes a run at the 2nd Dream Team.
How did you get into the sport of Gymnastics? How old were you? I started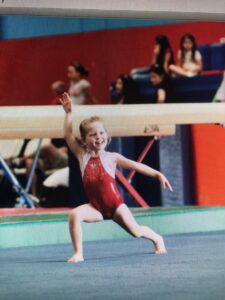 mommy-and-me classes when I was 2 because it was the only activity that was within walking distance from our apartment in Geneva, Switzerland, and I've been doing it ever since!
What is your favorite event? Why? My favorite event is bars because the majority of my favorite skills are on that event, plus I think it is so satisfying to hit a handstand, stick a dismount, or catch a release!
What is your favorite Skill? Dream Skill? My favorite skill is a gienger on bars and my dream skill is a maloney connected to a gienger!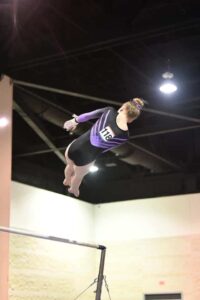 What is your favorite part of Gymnastics? Why? My favorite part of gymnastics is during the summer when everybody is trying new things and the whole team is fueled by that excitement!
What is your biggest accomplishment in the sport of Gymnastics (so far)? My biggest accomplishment in gymnastics so far was qualifying to Nationals as a first year level 10.
What is something you have learned in/from the sport of Gymnastics that you will take with you long after retirement? One thing that I have learned in gymnastics is to stay in the present moment. It is very difficult to live life how you want to when you are too focused on something in the future or still dwelling on something that happened in the past.
Who is your role model? Who inspires you? Why? How? My role model is Amelia Hundley because I've always been inspired watching her be so successful in something that she is extremely passionate for. She has funneled her love for gymnastics into a successful career as a gymnast and now as a coach!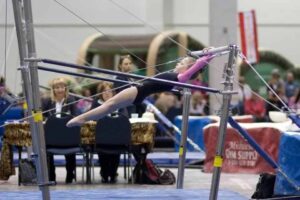 What is your most memorable meet moment? My most memorable meet moment was this past year's level 10 Regionals. 2 years ago at level 9 Regionals, beam was my last event and after a great meet, I fell and didn't qualify to Easterns as a result. This year was the same rotation order, and I redeemed myself and hit the best beam routine of my season, getting a 9.525 and qualifying to Nationals!
What is your most embarrassing or funniest meet or practice moment? My most embarrassing moment in practice was when I peeled on the low bar on a tap swing and almost landed on one of my teammates. That same day, I jumped to the high bar and missed and landed on my back… did I mention I was a level 10 when all this happened? 🙂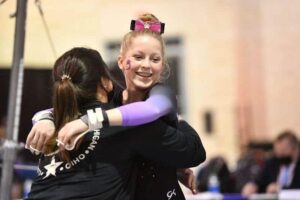 What is the most valuable piece of wisdom your advice you have received from your coaches? In sports psych right before Regionals, one of my coaches did a lesson on how, individually, we are in control of our performance right at that moment. I've kept that with me since then and it helps get rid of that helpless feeling and worry about how other people will perform that day.
If you could have any superpower what would it be? If I could have a superpower, I would want to be able to fly because I spend way too much time in the car!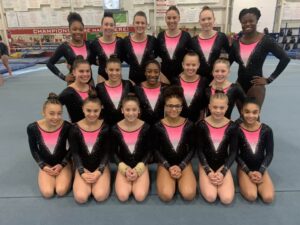 What was it like competing in your 1st Level 10 National Championships? I loved it! I wasn't nervous because I realized that all I could do was give my best and that was enough. It was also super fun getting to spend the day with my Region 5 teammates, I look forward to seeing them again at meets this season!
What was it like representing Region 5? What was a highlight or memorable moment from the competition? My highlight was competing an E skill for the first time and placing 5th on floor! I loved competing for Region 5, they took such good care of us and all of the girls were supportive and fun to be around!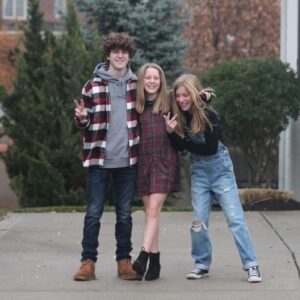 What is your favorite Region 5 Insider Feature or Series? My favorite is either the All Access series or Coaches Wired series!
What are the 5 most important items in your gym bag? Ibuprofen, grips, tiger paws, tape grips, and snacks!
What are 3 things you could not live without? Hoodies, Dunkin', and music!
What do you like to do outside of Gymnastics? I like to hang out with my friends and spend time with family!
What sets your team/gym apart? I think one thing that sets CGA apart is the excitement that we feel for each other. We are all very close, and are just as excited about each other's progress as we are our own!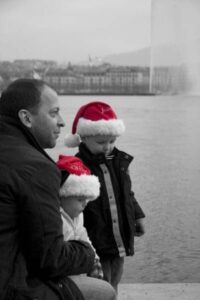 Favorite Show or Series to Binge Watch on Netflix, Hulu or HBO+ Outer Banks!
Where do you see yourself in 10 years? What is your dream job? I don't know exactly what field I want to work in yet, but I really want a job that allows me to travel!
Bonus Question: Tell us something interesting about yourself……….I was born in Geneva, Switzerland and lived there until I was 3!