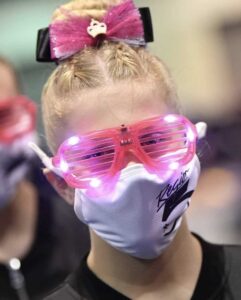 Our next 20 Questions athlete also hails from Cincinnati Gymnastics, Ellie Monahan, qualified for her 1st DEV Nationals in 2021 as a 1st year Level 10. I definitely enjoy watching Ellie on the Floor exercise, which she placed 4th on it at the 2021 DEV Nationals, her routine is full of spunk, fun dance and she has great music. On the competition floor Ellie is an extremely positive and upbeat teammate, always cheering on those around her and having a great time. I absolutely love the bond and chemistry she has with her CGA teammate Josey Kiefer. These two athletes came up together through the levels and together qualified to their first L10 DEV National Championships. It is super fun to watch them on the competition floor interacting with one another and their teammates, plus they are the exact same height which is fun. Ellie, who is a sophomore in high school, has aspirations of college gymnastics in the future. However, until then she has a few more years to make her mark in DEV Gymnastics and Region 5. Ellie is certainly "one to watch" for the 2021-2022 season. Let's get to know Ellie a little better as she focuses on her the upcoming season and her quest to be part of her 2nd R5 Dream Team.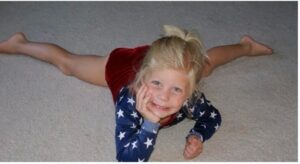 How did you get into the sport of Gymnastics? How old were you? When I was 8 months old, I broke my femur and arms, and I was put in a body cast, and I was always finding a way to climb around, so my parents decided to put me in gymnastics classes!
What is you favorite event? Why? My favorite event is bars because I love the feeling of swinging. It's so fun and exciting to get new skills and catch new releases!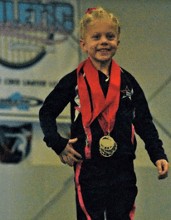 What is your favorite Skill? Dream Skill? My favorite skill is a shaposh half, and my dream skill is a pak full on bars!
What is your favorite part of Gymnastics? Why? My favorite part of gymnastics is the excitement of getting a new skill, and all the friends that I've made through the sport!
What is your biggest accomplishment in the sport of Gymnastics (so far)? My biggest accomplishment in gymnastics so far is qualifying to level 10 Nationals in 2021 and being awarded the MVP for my team in 2021.
What is something you have learned in/from the sport of Gymnastics that you will take with you long after retirement? The biggest lesson I've learned in gymnastics is to never give up, because your hard work will pay off.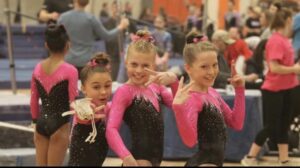 Who is your role model? Who inspires you? Why? How? My biggest role model is Amelia Hundley. Her hard work and dedication is so inspiring. I loved watching her at CGA and Florida, and I can't wait to watch her coach!
What is your most memorable meet moment? My most memorable meet moment was 2021 regionals. After falling on bars, I knew it was going to be a struggle to qualify to nationals. I had beam and floor left, and I knew I had to hit both routines to possibly qualify. I hit my beam routine, which was relieving because I was nervous for that. Then I did my floor routine, and after hitting both routines, I qualified, and I was so excited!
What is your most embarrassing or funniest meet or practice moment? My most embarrassing practice moment had to be one time when I was doing a shaposh. I barely caught the bar, and then I flung backwards onto one of my teammates, and that teammate was a girl who was from Switzerland, and she was staying in Ohio for a while. On top of that, it was her first week at the gym, so it was embarrassing and awkward!
What is the most valuable piece of wisdom your advice you have received from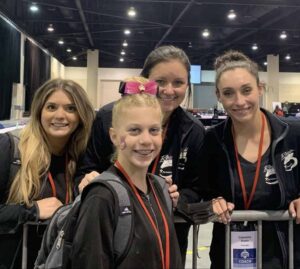 your coaches? An important lesson that my coaches have taught me is how to properly communicate how I'm feeling. They teach me by example, and I'm grateful to have such strong leaders to look up to!
If you could have any superpower what would it be? If I could have a superpower, I would want to fly because I think it would be so cool to just fly wherever I wanted to go!
What was it like competing in your 1st Level 10 National Championships? Details I had so much fun at my 1st level 10 Nationals! The energy was different from any other meet, and I met so many new friends!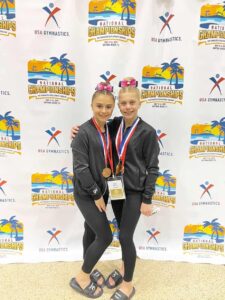 What was it like representing Region 5? What was a highlight or memorable moment from the competition? My highlight from Nationals was placing 4th on floor! I enjoyed competing floor at Nationals because the energy was so high, and I had so much fun! I love representing Region 5 because it feels like one big family, and Region 5 goes above and beyond in everything they do!
What is your favorite Region 5 Insider Feature or Series? My favorite Region 5 series are the day in the life videos, and the all access series!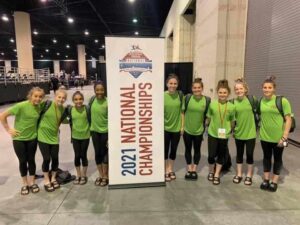 What are the 5 most important items in your gym bag? The 5 most important items in my gym bag are my grips, tiger paws, ibuprofen, water bottle, and snacks.
What are 3 things you could not live without? 3 things I couldn't live without are my family, sweatpants, and smoothies!
What do you like to do outside of Gymnastics? I love hanging out with my friends, and doing fun activities like Kings Island, and haunted houses!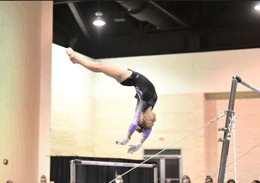 What sets your team/gym apart? One thing that sets CGA apart is how we are all like family! We are so close, and even though we spend a lot of time together, we miss each other when we aren't together!
Favorite Show or Series to Binge Watch on Netflix, Hulu or HBO+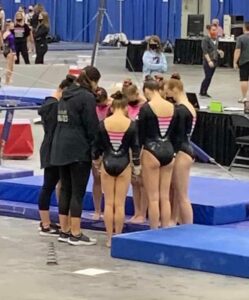 My favorite Netflix show has to be Outer Banks!
Where do you see yourself in 10 years? What is your dream job? I see myself traveling when I'm older! I'm not positive on what job I want, but I would love to be able to travel!
Bonus Question: Tell us something interesting about yourself………. When I was younger, I had a peanut and egg allergy, and I grew out of both of them!
Brought to you by Gym Treasures