Results: Junior | Senior
Videos: USAGym Flip Now
It's a teenager,……. the Nastia Luikin Cup is in its 13th year, and is still one of the most influential components that goes into putting the competition schedule together for many gyms around the country. Gyms travel the country to hit as many of the invitationals they can to get that chance to qualify and compete on top the podium, under the lights, on national TV with the special made pink Leos from the 2008 Olympic Champion.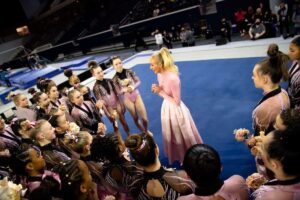 The 2022 cup was held in Nastia's hometown of Dallas, Texas. This is the second time the event has been held in Texas, the first being in 2015 in AT&T Stadium. Jerry's world hosted it once again, this time in the Ford Center, Cowboys practice facility. Region 5 was well represented in this years cup with nine qualifiers, tying the record set back in 2017. Three of the Nastia nine, as we are calling them, have competed at the cup in the past. Faith Torrez from Legacy Elite, who dropped back to level 10 from elite this year, Bailey Stroud from JPAC and EuroStar's Nikki Smith all have sparkled in the pink and black.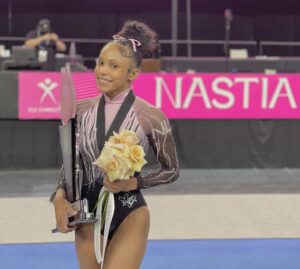 The top qualifier to this years Nastia was Euro Stars Nikki Smith and she didn't disappoint. In her 3rd trip to the cup, Nikki tied for first place being crowned Nastia Cup co- champion. Nikki started out on vault with a big Yurchenko 1 1/2 before moving over to bars where Tim Daggett, NBC commentator, proclaimed her hew Maloney Pac combo as "Gorgeous". After a big double back dismount on beam for a 9.725 that made her coach Nicole jump to the roof, Nikki ended strong nailing both her opening full In and double back last pass for a 9.8 and overall total 38.95 good enough for the unique torch trophy.
Faith Torrez, participating in her third cup, arrived in Dallas in the early morning of competition. She led off the NBC broadcast on floor in typical Faith fashion with a huge double layout and stuck front to double back in final pass for a 9.725. She handled her new vault for 2022, Yurchenko one and half, with ease. It was one year ago at last years Winter Cup where she hurt her ankle in warm-ups on her double full. Faith wrapped her final Nastia Cup on beam with her awesome nice standing full but had a to pike over on her aerial layout to save it and finished with a nice double back and finished 7th with a 38.4.
Breaking into the top 10 in her first cup, Lucie Kirchner from JPAC nailed an awesome 2 1/2 front pike on floor, downgraded her vault from a Yurchenko one and 1/2 to her awesome layout 1/2 (nice to be able to do that). and nailed a strong bar set that send her coach Kyle into the air with excitement to finish 9th with a 38.3.
Region 5 had two more in the senior competition both in their first Nastia Cups, and both made an appearance in the broadcast . MaKayla Tucker from DeVeaus has a beautiful beam routine that featured a floating front aerial back handspring series, thatTim Daggett mention in his commentary, and then nailed her gainer full dismount for a 9.625 . Kayla's Yurchenko full is one that makes you look up and gasp at the height and position in the air, landing for a solid 9.625 and an 11th place 38.275.
2021 Level 10 National All Around Champion Hannah Scheible had some uncharacteristic falls on beam and bars but gave the world a look at her very unique floor routine that features very strong and powerful tumbling and her signature spray bottle wash the windows choreography for a 9.625.
Gymnastics is an opportunity for comedy pic.twitter.com/4k6tgOymMi

— Kim – dutchgymnerd (@dutchgymnerd) February 25, 2022
In the junior competition, JPAC's Bailey Stroud had the top bar routine and second highest score in the entire competition with her 9.8. Her Maloney to Pac and Maloney 1/2 all executed with form and amplitude. Bailey broke the 38.0 mark to finish 7th in all around.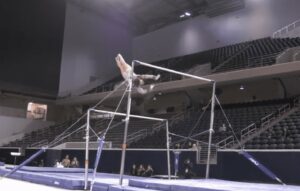 2021 Level 10 National and Hopes Championships qualifier Carly Weinberg of Buckeye made her new ray and very nice blind 1/1 to Pac and had a very nice Yurchenko layout half for a 9.5 and a top 10 (junior) finish with a 37.7.
Clancy Conley (Legacy Elite) and Isabel Biro (Queen City) each had some struggles on a couple events but gained some great experience. Isabel had a very nice floor routine that feature a huge double back in her first pass for a 9.425. Clancy always has nice swing on bars with a Maloney to Pac salto scoring her best on the day with a 9.325.