Full Results (2 Day totals)
Day two of juniors at the 2021 USA Championships was one of consistency and improved performances from those on day 1. Though there were some falls here and there the competition in the junior session was very competitive with clean and confident gymnastics even if there were only thirteen of them.
The Region 5 Trio hit all four events in day two and each found themselves on the awards podium on multiple events. In the all around Gabby Van Frayen (Gym Xtreme) and Ella Kate Parker (Cincinnati) tied for 7th all around with a 102.2 to claim spots on the 2021 USA Junior National Team. Izzy Stassi (Gym Xtreme) finished 11th in the all around with a 101.00.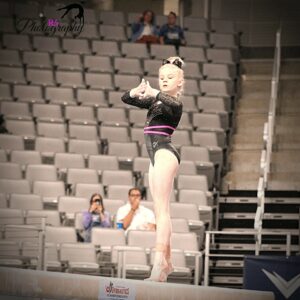 Ella Kate had the top individual finish with two awesome beams sets over the two days of competition to finish 2nd with a total of 26.7. Her aerial layout step out is eye catching and she always finishes it with a chin raise as if to say beat that!
Izzy Stassi nailed two bars sets to finish 4th overall with a total of 25.5. I didn't think her Maloney uprise clear hip Ray combo could be better but it might have been today. She upgraded her dismount to a layout 1/1 out on day 2. It will be awesome to see where this routine goes in terms of composition in the coming years. Izzy also was very solid on all her landings especially her very nice 2 1/2 front tuck on day 2 to finish 8th and grab another medal in her first championships.
Gym Xtreme had two swing into the top 5 on bars as Gabby finished the two days in 5th with a 25.15. She connected her toe full to Maloney in warm-ups but turned it over the bar a little too much during competition however her Maloney Pak combo was right on along with her Jaeger which rotates so fast off the bar. Gabby also took 7th on beam with a two day total of 25.4. Her routines were both super solid though she did have to leave out her second layout in her series on day 2.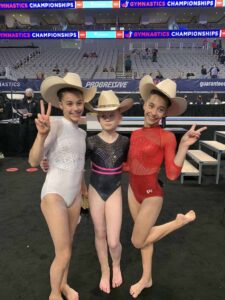 It was fun to watch this trio compete and gain that first championships experience and confidence. These three have loads of talent and the sky is the limit to where their careers take them in the future.