It's Tuesday!! That means its 20Q Tuesday!! Today we are featuring 1st time DEV National Qualifier Layla Bobek from Universal Gymnasts in Ohio. Layla, who moved to Level 10 pretty quickly, went undefeated on Vault in 2021 then placed in the top 20 at her 1st National Championships. I absolutely love watching Layla's gymnastics especially on beam and vault. Layla flows down the beam so effortlessly and her straddle jumps are absolute perfection! I can definitely see why she went undefeated the entire year on vault, her vault is excellent, the shape in the air is what this vault should look like! Layla, who will graduate high school in 2025, will definitely be one to watch this season and for many more to come leading the future of Region 5. As meet season is fast approaching let's get to know Layla a little better as she prepares to make a run at a 2nd Region 5 Dream Team in 2022.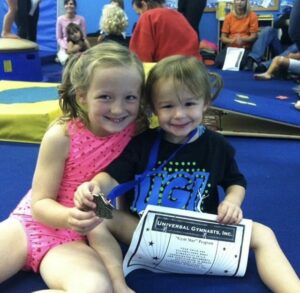 How did you get into the sport of Gymnastics? How old were you? I was about 3 years old, and my parents decided to put me in classes because they thought it
would be something fun for me to do!
What is you favorite event? Why? My favorite event is vault! I love being able to use my power and not having to hold back.
What is your favorite Skill? Dream Skill? My favorite skill right now is probably my Jeager on bars! My dream skill would have to be a Yurchenko 1 1/2 on vault or a double layout on floor.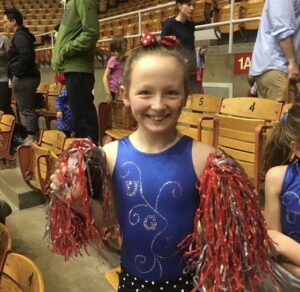 What is your favorite part of Gymnastics? Why? My favorite part of Gymnastics is the feeling of getting a new skill for the first time, or cheering
on my teammates and making memories with them!
What is your biggest accomplishment in the sport of Gymnastics (so far)? My biggest accomplishment so far in the sport of Gymnastics would have to be qualifying to
Level 10 Nationals this past year! It was so much fun and an amazing experience.
What is something you have learned in/from the sport of Gymnastics that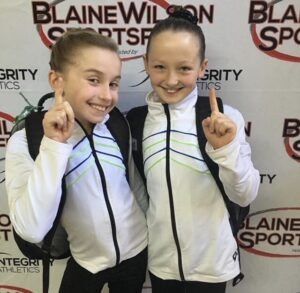 you will take with you long after retirement? Something I have learned from the sport of Gymnastics that I will take with me long after retirement is that it is okay to make mistakes. Nobody is perfect, and we all learn from our mistakes.
Who is your role model? Who inspires you? Why? How? My role model in this sport would probably be Mykayla Skinner! She is so amazing and has proved that you can go far if you never give up!
What is your most memorable meet moment? My most memorable meet moment would have to be competing and hanging out with all of the girls in my Nationals group! They are all so amazing and so much fun to be around!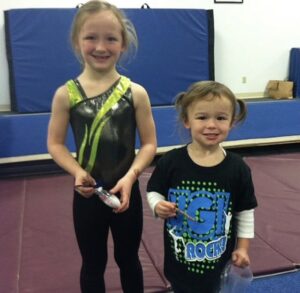 What is your most embarrassing or funniest meet or practice moment? My most embarrassing meet moment would have to be when a huge piece of chalk fell into my
eye during one of my bar routines. I couldn't see at all, and I ended up falling two times on my toe-on. Since I was trying so hard to get it out, I had chalk all over my face!
What is the most valuable piece of wisdom or advice you have received
from your coaches? The most valuable piece of advice I have received from my coaches is to take everything one step at a time. This applies to Gymnastics whenever I'm doing my skills or a routine, and for anything in real life!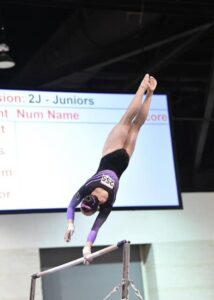 If you could have any superpower what would it be? If I could have any superpower, it would be the ability to fly. That's part of the reason I love
Gymnastics, it almost feels like I'm flying!
What was it like competing in your 1st Level 10 National Championships Competing in my first Level 10 Nationals was an amazing experience! It was so much fun
What was it like competing in your 1st Level 10 National Championships?Competing in my first Level 10 Nationals was an amazing experience! It was so much fun
getting to compete with the girls in my group and growing close to them! It was so fun knowing that all of the coaches and your teammates supported you and cheered you on as you competed! We all knew that we had a goal and we worked hard to achieve it. One of my favorite parts was getting to yell the Region 5 cheers to the other groups across the gym. We all supported each other and Region 5!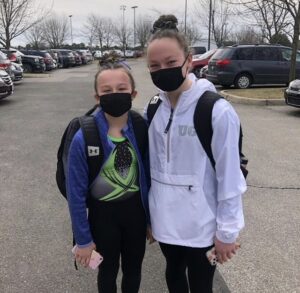 What was it like representing Region 5? What was a highlight or
memorable moment from the competition? Representing Region 5 was so much fun! One highlight from the meet was getting to run
through the tunnel when they called our group. We had our light up glasses and foam 5's on our hands while all of the coaches cheered for us!
What is your favorite Region 5 Insider Feature or Series? My favorite Region 5 Insider Series would be the Making Moves Monday! I love being able to
see what all of the girls from across the region are working on.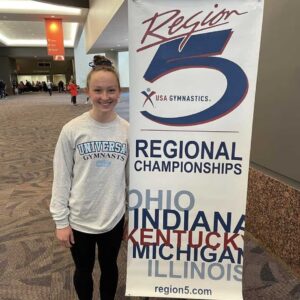 What are the 5 most important items in your gym bag? The 5 most important items in my gym bag would be my grips, tiger paws, heel pads, rip fix,
and chapstick.
What are 3 things you could not live without? 3 things I couldn't live without would be my friends, family, and my dog Baxter!
What do you like to do outside of Gymnastics? Outside of Gymnastics, I love to cook and bake, go to target, online shop, and watch Netflix!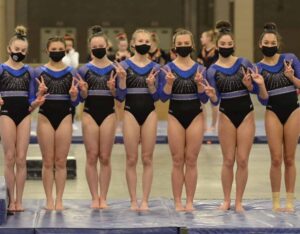 What sets your team/gym apart? Something that sets my team and gym apart from others is how we are so supportive of each
other! We make sure we cheer and support everyone so that they know we have their back and to know that anything they do will be amazing!
Favorite Show or Series to Binge Watch on Netflix, Hulu or HBO+ My favorite show to binge watch on Netflix is Outer Banks!
Where do you see yourself in 10 years? What is your dream job? My dream job would probably be being an Elementary School Teacher! I love kids, and I would
never get bored working with them. I would also love having my own classroom, and knowing that my job is helping others and impacting others!
Bonus Question: Tell us something interesting about yourself……….Something about me you might not know is that I was actually an excel gymnast until 4th
Grade! I decided to come to team after one of my meets because I knew that I wouldn't be able to go the to Olympics if I didn't join the team program. That dream has changed since then, but now I would love to compete for a D1 college.