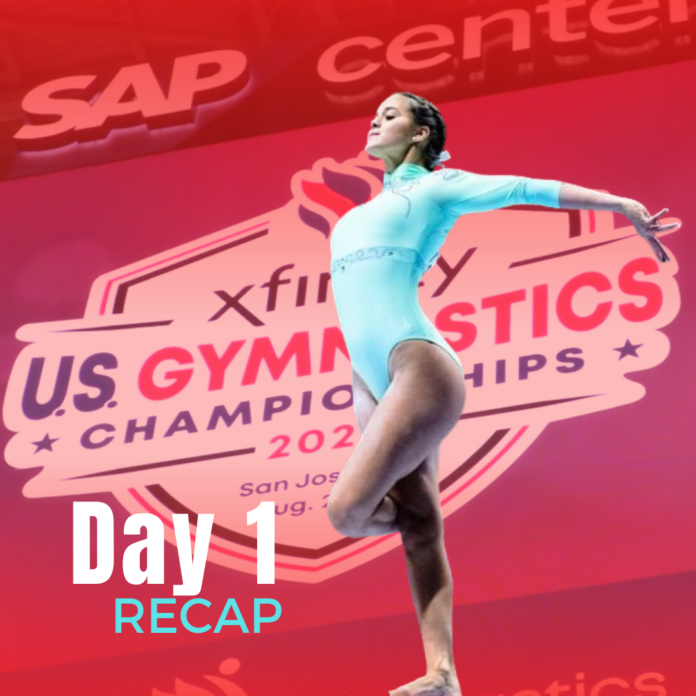 San Jose, CA
Competition in the 2023 Xfinity Championships flipped into action this afternoon at the SAP Center with Day 1 of junior competition. Region 5 had two athletes take the floor for the last meet of their season. The arena was rocking in anticipation of some outstanding gymnastics and the crowd was not to be disappointed.
Izzy Stassi of Buckeye Gymnastics, sporting a bright mint green leo, rocked two 13 plus scores in the first two events and is currently in 4th all around with a 51.9. As Izzy has mentioned in several of her interviews she is dealing with a back issue that has hindered her training time and then hit her big toe on the low bar in training her in San Jose. Her performance was highlighted by a beautiful Yurchenko 1 1/2 in the first rotation for a 13.7 that sits in 2nd place.
She went last on beam with the eyes all on her but that had no effect on her beautiful layout step out mount on beam. Music in the arena during her routine was "Wild One" and I would say that fits her mount like a glove. On floor she almost stuck her full twisting double back opening pass. She had some radar for the landings today including getting her feet under her on the 1 1/2 front full third pass. Loved how she looked right at the judges with a dead stare after her 3rd pass. In the video below you will notice Izzy saluted the announcer and the crowd before the judges ….. Priorities!!!!!
video from USA Gymnastics
Ella Kate Parker from Cincinnati Gymnastics had was up and down but fought through to the end finishing strong on beam. She missed the timing of her connection on the two and half front pike and had to tuck it down and sat down this after doing a beautiful triple full. She kicked off her bar routine in strong fashion with her Ricna (Stalder Tkatchev) immediate Pak with ease but hand some trouble with grip on the pirouette and had to stop and recast before her dismount.
Balance beam is the place Ella Kate shines and she wrapped day one with a 12.65 which sits her in 6th place. She must have felt a bit off on her series as she omitted the 2nd layout in her series but hit a solid aerial layout step out and closed out the routine with a very nice back handspring combo to double full.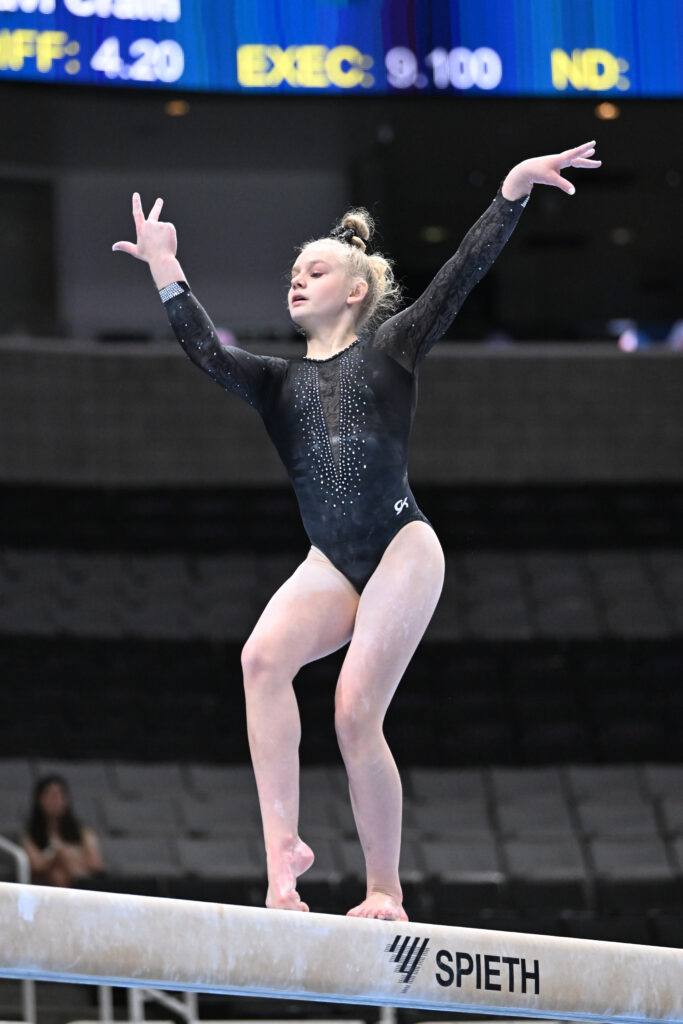 The senior session began with an all lights show during the national anthem as the SAP Center has installed lights on all of the seats around arena and the were flashing red white and blue. Region 5's only senior Kelise Woolford from Buckeye Gymnastics turned 16 today so…. Happy Birthday Kelise. She came into this championships nursing an ankle injury which has prevented her from putting in some of the upgrades that she was hoping to like her back handspring full series on beam.
Kelise started the night off a bit tight on bars and had to cover a missed pirouette and a bit of a slipped hand on a pirouette but sent her Jaeger into the Jumbotron as usual and finished with a strong full out for a 12.35. In podium training, beam was a bit off for her but the routine today was very solid starting off with an awesome triple wolf turn and continued through to her solid side somi before sitting down the 2 1/2.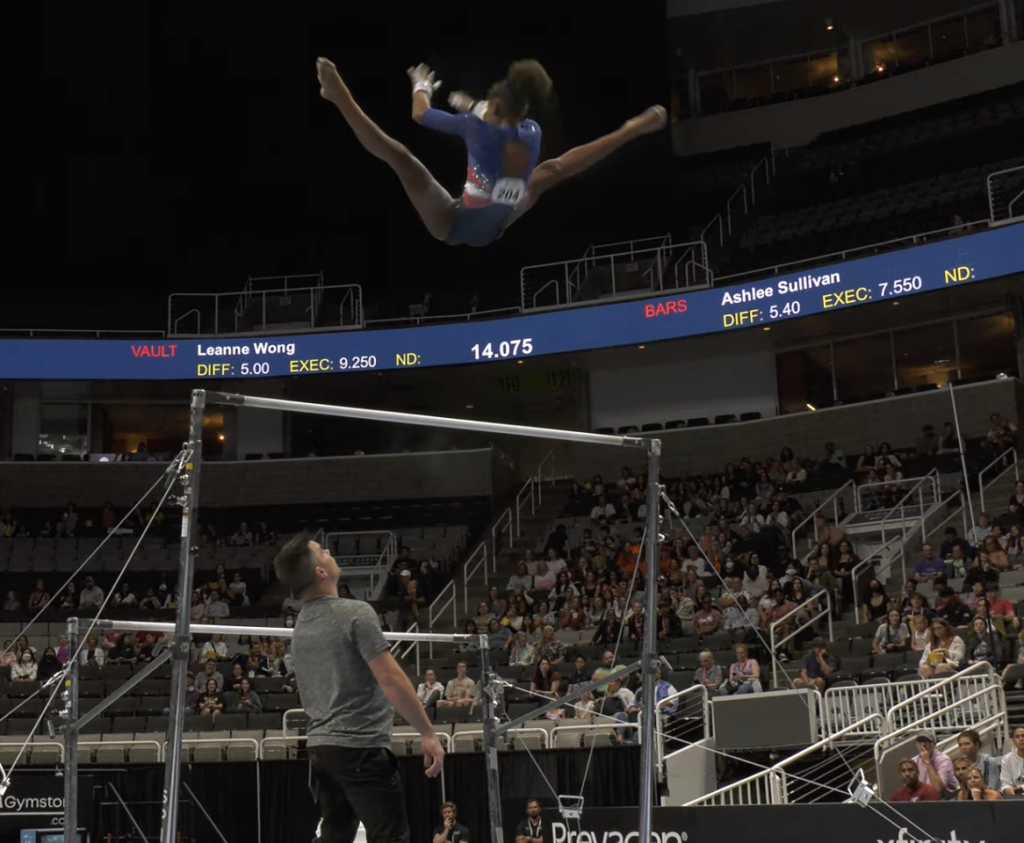 Chellsie Memmel move on over, Kelise Woolford is in town and she has a gorgeous Memmel turn to start her routine. She had solid landings on her first two tumbling passes and adjusted to an awkward landing on her 2 1/2 last pass. It was a nice artistic performance for Kelise. She finished off with a solid Yurchenko full to close competition on night one.
Competition for all three ladies with continue on Sunday for Day 2 of the 2023 Xfinity US Championships.