They say "Good things come to those who wait" well I think I have kept everyone waiting long enough. It has been a busy end of the season with lots to do and now we are all of a sudden knocking at falls door with some starting school already! Where has the time gone! So without further a do, I give you the long awaited 2023 Region 5 Top 10 Favorite Leotards!!!! Ironically, 5-1 was the easiest part of the list for me this year! Hopefully some of my favorites are some of yours too!

5. Integrity (Ohio)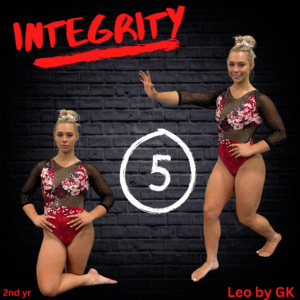 I went back & forth with this Leo so many times, it was on the list then off then on, but at the end of the day I could not deny the beauty and uniqueness of Leo GK leotard. Integrity is no stranger to beautiful Leo's and in the last few years they have been all about the lace and flowers without being overwhelming. This Leo definitely does that drawing you in at the same time with its take notice mesh cutouts. Plus you cant go wrong with the red and black!
4. KGA (Kentucky)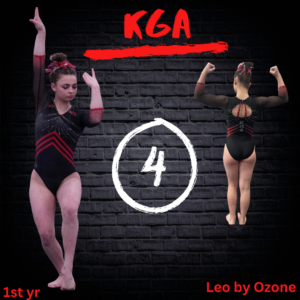 This is KGA's first year on our list & the first time I saw this Leo was at the R5 Insider & I instantly loved it! My favorite part of the back with the KGA running vertically! I also love that the design point up and not down running along the rib cage! I was extremely impressed with this Ozone design! Plus red and black has always been a favorite color combination of mine so how can you go wrong with that!
3. GTC-IN (Indiana)*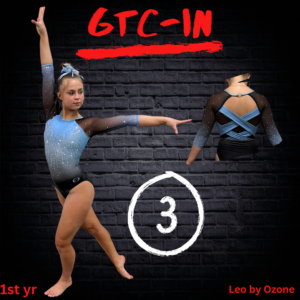 This may be GTC-IN's first year on the list, but they have held an Honorable Mention spot in the past with their Greek Inspired Leo. I saw this beautiful blue to black Leo early in the season but it wasn't til the I was doing Dream Team Media for Nationals that I really took noticed of how much I loved this Ozone Leo! However I did have a hard time deciding where in the top 5 it would go until Lilah sent me a photo of the back! I instantly knew top 3 was the only option! The back is what did it for me! It's just different than most of the common backs you see these days! I love the clasp at the neck but the low crossing straps, they remind me of a prom dress!
2. 5-Star (Ohio)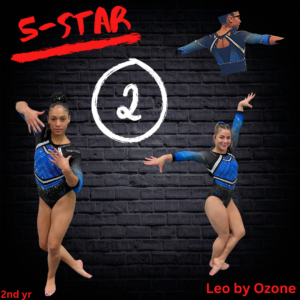 5-Stars Leo was another instant favorite the moment I saw it! I couldn't not get it on my list fast enough! There is so much detail everywhere on this beautiful blue Ozone Leo that it immediately catches your eye from all angles on the competition floor, it also photographs beautifully! The back is sets this Leo apart and draws you in with the key whole and smaller cutouts. However, I would love to see what the back would look like without the black fabric in the middle, but due to the Leo's rules it has to be there, but with or without it does not matter this is one of my all time favs for sure.
Midwest Elite (Illinois)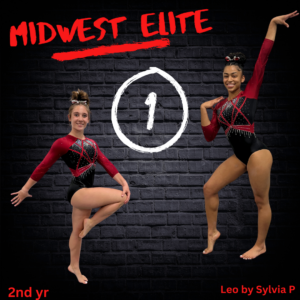 As soon as I saw this Leo I was absolutely IN LOVE! I knew instantly this would be hard to beat this season! A few came close, but at the end of the day I knew Midwest Elite would be topping this years list! I love everything about this Sylvia P design! The attention to detail, the perfect jewel placement and how the red just pops! Not to mention it looks GREAT on everyone! Bravo Midwest Elite!
_____________________________________
*Indicates a Region 5 Favorite by those who voted.
Disclaimer: To be eligible for the Region 5 Top 10 Favorite Leo list at least one athlete must compete at least one event at the Level 9/10 Region 5 Championships.