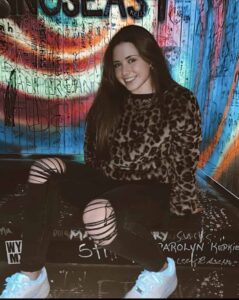 It's Tuesday!! That means its 20 Questions Tuesday!!! Today we are featuring, one of my favorite Floor workers, Lauren O'Brochta of Legacy Elite in Illinois. Lauren first caught my eye as a level 9, at Region 5 Championships, with her beautiful Floor routine. Lauren, who has won an R5 Insider Yahtzee Award, never fails to entertain on the Floor. I also love watching her execution and confidence on the Balance Beam, she works the beam as if she is walking on the Floor with incredible poise and strength. I am looking forward to the next few years to see what Lauren can do for Region 5. As season is about to kick off let's get to know a little bit more about Lauren as she works hard in the gym at perfecting her twists, turns & tumbles in pursuit of a chance to represent Region 5 at the 2022 DEV National Championships.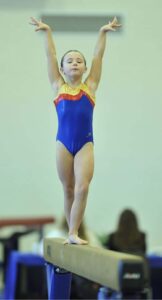 How did you get into the sport of gymnastics? How old were you? As a 2 year old, I had tons of boundless energy. I was put into baby classes at the YMCA and continued to excel and find love for the sport.
What is your favorite event? Why? My favorite event is Beam. Dance and grace have always come naturally to me. I love to show off graceful elements as well as skill difficulty on this event.
What is your favorite Skill? Dream skill? My favorite skill is a full-in on floor. I learned it this summer and I'm working to get to compete it this season! My dream skill is a double layout on floor.
What is your favorite part of Gymnastics? Why? My favorite part of gymnastics is getting to compete with my teammates on floor. The high energy while we all show off our dance takes away the nerves of competing. I also love the friendships I have created over the years with so many different athletes.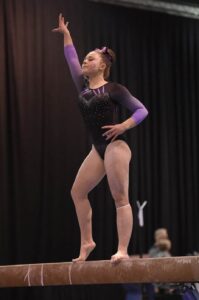 What is your biggest accomplishment in the sport of Gymnastics (so far)? My biggest accomplishment in gymnastics so far is qualifying to Level 10 JO Nationals. Hearing my name called at Regionals that I had qualified was truly an unforgettable experience. I got to compete with so many supportive girls and the atmosphere of representing Region 5 was amazing.
What is something you have learned in/from the sport of Gymnastics that you will take with you long after retirement? Through the sport of Gymnastics, I have learned that not everyday is going to be easy and perseverance is key. Getting back up and trying again after a fall is challenging, but this is what will make you succeed. I will take the trait of perseverance with me long after I retire.
Who is your role model? Who inspires you? Why? How? My role model today is Anastasia Webb. I trained with Anastasia when I was a level 7 and she was a level 10 at IGI. I admired her hard work and dedication to the sport. Her success when she was a college gymnast at Oklahoma has inspired me today.
What is your most memorable meet moment? My most memorable meet moment is
hitting my beam routine at Regionals this past season. Beam was our last event and it determined if I would qualify to Nationals. The pressure was very high, but I pulled it out and hit a solid 9.5 routine. This was just one of my many memorable meet moments.
What is your most embarrassing or funniest meet or practice moment? My funniest meet moment was when I was competing in level 4. I was not the greatest at vault because I was so tiny. I had run my hardest toward the vault table, tripped and completely face planted into the board. Now, as I look back at the video, I laugh at how aggressive I ran towards the vault table only to trip and land on my face.
What is the most valuable piece of wisdom or advice you have received from your coaches? My coach, Anna Li, always says, "You are already in the gym, you might as well give 100%". I remind myself of this daily which helps give me the motivation to make every day in the gym worth it.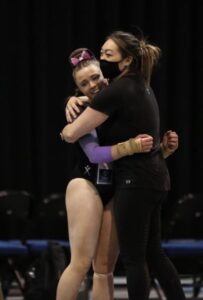 If you could have any superpower what would it be? If I could have any superpower, I would like to fly. You could take endless vacations which us gymnasts don't normally get!
What was it like competing in your 1st Level 10 National Championships? Competing at my first Level 10 Nationals was an experience I'll never forget. It was amazing to see the talent of many gymnasts from all over the country. I created a strong bond with the teammates in my group that I continue to talk to today.
What was it like representing Region 5? What was a highlight or memorable moment from the competition? The team spirit and hype of Region 5 is always the best out of all the regions. Everyone is so supportive of each other and continues this high energy even after a fall. The most memorable moment from the competition was hitting a solid beam routine in this high pressure situation.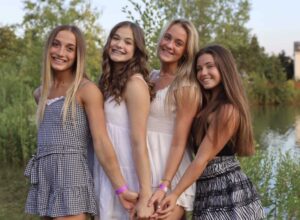 What is your favorite region 5 Feature or Series? My favorite region 5 Feature of Series is the Day in the Life videos. I love to see how each gymnast goes about their day and how they balance school and gymnastics.
What are the 5 most important things in your gym bag? The 5 most important things in my gym bag are my grips, tiger paws, pre-wrap, Advil, and a water bottle.
What are 3 things you could not live without? Three things I could not live without are my family, my air force Nike shoes, and mangoes!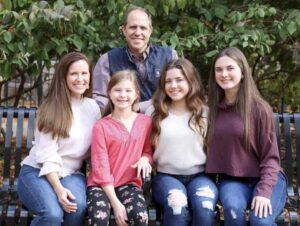 What do you like to do outside of gymnastics? Outside of gymnastics I like to go on trips with friends, spend time with extended family, and do fun outdoor activities with friends.
What sets your team/gym apart? At Legacy Elite, the team bond is truly unmatched. We are all like a family and support each other in any situation.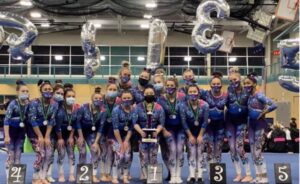 Favorite Show or Series to Binge Watch on Netflix, Hulu or HBO+? My favorite show to Binge Watch was Stranger Things. I'm excited for the new season to come out!
Where do you see yourself in 10 years? What is your dream job?
In 10 years I see myself just out of college looking to buy a house somewhere warm! I am unsure what my dream job is but I would like to pursue a career in business!
________________________________________________________________________
Presented by Gym Treasures