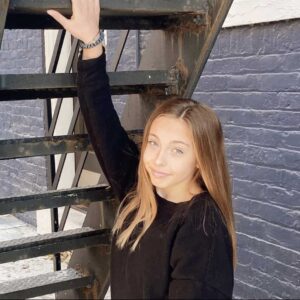 Our next 20 Questions athlete is a 1st time DEV National Qualifier, as a 1st year level 10, from Cincinnati Gymnastics. Katherine "Kit" Shackelford is one of the hardest working athletes I have had the pleasure of filming, every turn Kit takes is done 100% with purpose and confidence. I absolutely love watching Kit perform on her favorite event the uneven bars, she is a natural swinger, I also love the strength and confidence she shows on the balance beam. Kit, who is a freshman in high school, have a few more years to continue to make an impact in Region 5. I definitely see big things in the future for this incredible young athlete, so with that being said let's get to know Kit Shackelford a little better as we get ready to wrap up pre-season training and jump in to the 2021-2022 Competitive Season a Kit trying to qualify to her 2nd DEV National Championships in her 2nd year as a Level 10.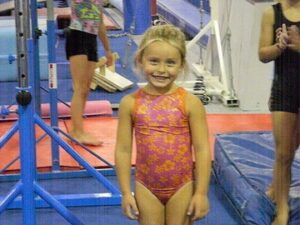 How did you get into the sport of Gymnastics? How old were you? I got into the sport of gymnastics at the age of two after my mom saw that I needed to learn how to land correctly after doing flips off the back of the couch!
What is your favorite event? Why? My favorite event is bars because I love the feeling of flying, and the feeling of catching new releases!
What is your favorite Skill? Dream Skill? My favorite skill is a piked jaeger, and my dream skill is a jaeger-pak combo!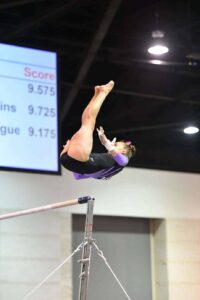 What is your favorite part of Gymnastics? Why? My favorite part of gymnastics is the feeling of all accomplishment after some adversity!
What is your biggest accomplishment in the sport of Gymnastics (so far)? My biggest accomplishment in gymnastics so far is qualifying to level 10 Nationals last year as a first year level 10, and getting most improved for my team in the 2020-2021 season!
What is something you have learned in/from the sport of Gymnastics that you will take with you long after retirement? I have learned from gymnastics that having a positive attitude towards something creates a more positive outcome, and I will take that with me long after my gymnastics days are over!
Who is your role model? Who inspires you? Why? How? My role model is Maddy Pike who is a freshman gymnast at The Ohio State University! She is my biggest role model and inspires me because she has shown me that hard work pays off, and that I can do anything I put my mind to!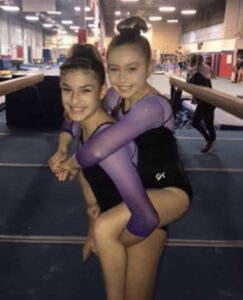 What is your most memorable meet moment? My most memorable meet moment is the hug that I gave my coaches at Regionals after finding out I qualified to level 10 Nationals! I will remember that moment forever!
What is your most embarrassing or funniest meet or practice moment? My most embarrassing practice moment is from the other day when I totally missed my foot walking across the beam and face planted on the beam!
What is the most valuable piece of wisdom your advice you have received from your coaches? The most valuable piece of wisdom that my coaches have given me is that your attitude is a little thing that makes a big difference!
If you could have any superpower what would it be? If I could have any superpower it would be to tell the future!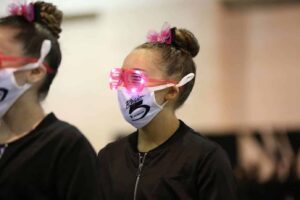 What was it like competing in your 1st Level 10 National Championships? Details Competing in my 1st Level 10 Nationals was such an unforgettable experience! From the spirit wear, to the make up, to the cheers it was an experience that I will remember forever!
What was it like representing Region 5? What was a highlight or memorable moment from the competition? Representing Region 5 was a very fun experience! The sportsmanship and energy that everyone in my age group had for one another was definitely a highlight of the competition!
What is your favorite Region 5 Insider Feature or Series? My favorite Region 5 Insider Series is the Day in the Life videos, because I love seeing how other people live their life and manage their time outside of the gym!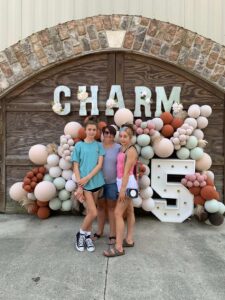 What are the 5 most important items in your gym bag? The 5 most important items in my gym bag are my water bottle, grips, tiger paws, deodorant, and my mid-practice snacks!
What are 3 things you could not live without? 3 things that I could not live without are the people who support me, sweatshirts, and summer!
What do you like to do outside of Gymnastics? Outside of gymnastics I love to swim in my pool, bake with my Granny, and spend time with my family and friends!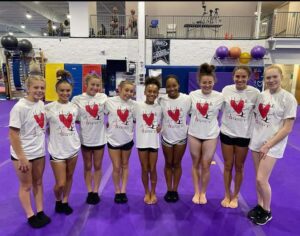 What sets your team/gym apart? The family atmosphere that my team has, and the push we have for one another is what I think sets us apart!
Favorite Show or Series to Binge Watch on Netflix, Hulu or HBO+ My favorite show to binge watch on Netflix is All American!
Bonus Question: Tell us something interesting about yourself………. Something interesting about me is that my real name is Katherine which is also my grandma's name, but everyone I know calls me Kit for short!